Industrial Fastener Supplier in Nevada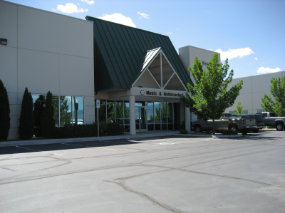 Metric and Multistandard Compoents
Nevada Location
750 Vista Blvd. Suite 403
Sparks, NV 89434
Para Ventas en Español Favor de Marcar Nuestra Oficina en Nevada.
Address:
750 Vista Blvd. Suite 403 | Sparks, NV 89434
Email:
salesNV@metricmcc.com
Phones:
(775) 355-7200
|
(800) 786-4599
Fax:
(775) 355-7255
Metric Industrial Products Delivered Throughout Washoe County & Beyond
Metric & Multistandard Components Corp. is 100% USA-owned and operated to provide the best industrial fasteners and metric supplies in Nevada and the Western United States. We first opened our Sparks, Nevada, location in 2000 to ensure that we can ship to every city in the US through regular UPS ground service within two days. As an
ISO 9001:2015 certified
metric fastener supplier, we are uniquely qualified to match your specifications and exceed your expectations.
We fulfill blanket orders with fast turnaround times on all domestic and international shipments. We can supply the high-quality fasteners you need to complete any job in Reno, Carson City, Sparks, throughout Nevada, or overseas. Our extensive inventory includes:
To learn more about Metric & Multistandard's excellent service and reliable products, browse our
extensive catalog
or read our comprehensive
technical resources
.
Metric Industrial Fasteners & Supplies for Any Nevada Application
We are the USA's top source for bulk metric products. Our wholesale and competitive volume pricing allows us to meet the needs of any industrial job site. From scheduled and reoccurring annual deliveries to one-time custom bulk orders, Metric & Multistandard provides metric solutions for any application, including:
Contact Our Nevada Location for Discount Pricing on High-Volume Fastener Orders
Metric & Multistandard specializes in metric fasteners and supplies for the industrial market. We maintain an inventory containing over 48,000 fastener options, and we are prepared to support the needs of any bulk order through fast and accurate deliveries.
Request a quote
to get started with Nevada's best metric industrial products. Contact us with any questions or to receive more information on how we can support you as your industrial fastener supplier. One of our highly trained expert representatives will respond as soon as possible.